"How I Fixed That" at IonSource
return to DIY index | return to IonSource
Changing the Ion Gauge on a Quantum Triple Quadrupole Mass Spectrometer
Thermo-Scientific ion-gauge part# 00105-01525 cost approximately $500.00.
Necessary equipment: 4mm hex-wrench
Step 1.) First place the instrument in standby mode, shut down the power, and unplug the Quantum. Let the instrument vent, and cool down. Go to lunch. I like sushi.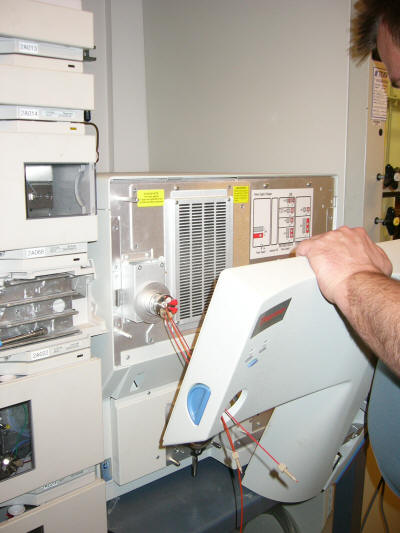 Figure 1. Removing the front cover.
Step 2.) Remove the front cover, see Figure 1.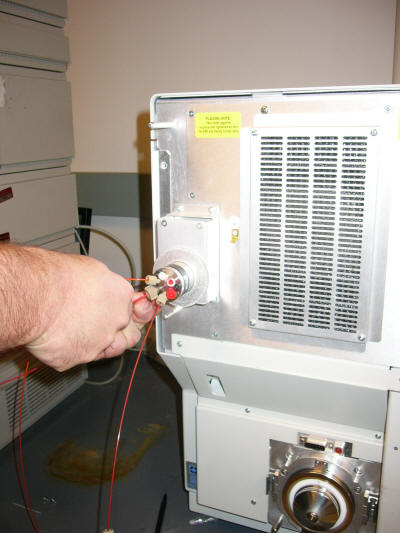 Figure 2. Removing screws for side panel.
Step 3.) Remove the screws for the side panel, and the top cover, see the Figures above and below. Remove the panels.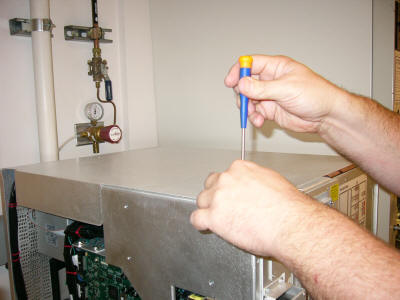 Figure 3. Removing top panel screws. There are also some screws located on the front face on the top to be removed for the top panel.
Step 4.) Remove the blue cap from old ion gauge. The ion gauge should be visible on the left side of the instrument about midway back. The blue cap should just unplug as you wiggle it up. Remove the three Allan screws, and wiggle the old ion gauge up, and out of the sealing o-ring.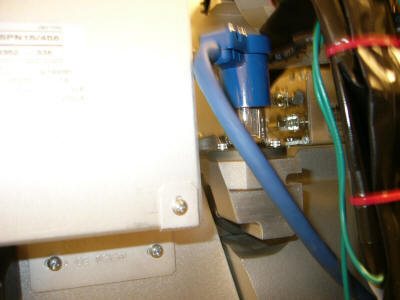 Figure 4
Below in Figure 5 is a view of the ion gauge from the top as it is seen after the blue plug has been removed.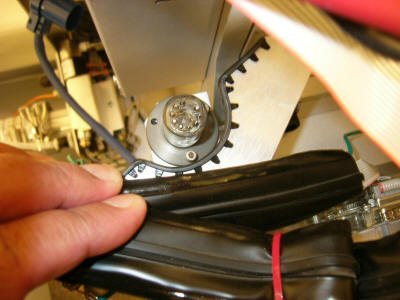 Figure 5
Step 5.) Be sure to wear gloves when handling the new ion gauge. Wiggle the new ion gauge in through the sealing o-ring and replace the collar, and gently screw the 3 Allan screws in place. Tighten the screws finger tight. Then take turns tightening each of them just a little bit at a time, one after the other. Do not over tighten.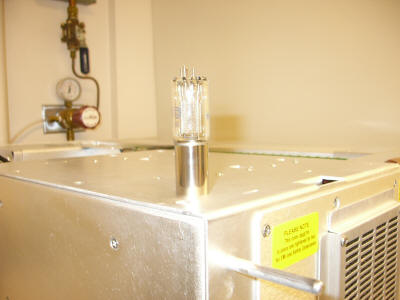 Figure 6 Here is a view of the old ion gauge sitting on top of the Quantum
Step 6 .) Replace the top, side, and front panels. Power up the Quantum. When we did this we let the instrument pump down over night. It is always helpful to seal the inlet when pumping down.
Conclusion: The Quantum is running like a charm, and we saved a service visit, about 3K. Let us know if we left something out by writing to webmaster@ionsource.com. If you would like to keep up with "howifixedthat" and other things going on at IonSource connect with us at http://www.twitter/IonSource
home | disclaimer
Copyright © 2000-2016 IonSource.Com All rights reserved.
Last updated: Tuesday, January 19, 2016 02:51:41 PM