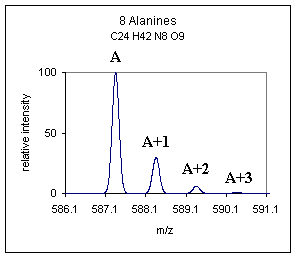 (Spectra in this tutorial were generated using the IsoPro program, v.3.01)
.
In McLafferty's book "Interpretation of Mass Spectra." he categorizes C and N as A+1 type elements and O, Si, S, Cl, Br as A+2 type elements, this is a useful categorization. One can look at the A+1 peak and make an estimation of the number of carbons in a compound. To estimate the number of carbon atoms in a compound devide the abundance ( %) of the A+1 peak by 1.1. For example if the abundance of the A+1 peak was 25% we could estimate the number of carbons at about 23. We can also use the A+2 information to determine whether any unusual A+2 type elements are present. For example looking at the atomic mass table it is obvious that the A+2 type elements Cl and Br would really stand out with isotopic abundances being 24.22 and 49.31% respectively at the A+2 position. For demonstration purposes only, the spectrum below is an example of what the above poly-alanine compound might look like with the addition of one Br atom, (yes, not a likely addition).
.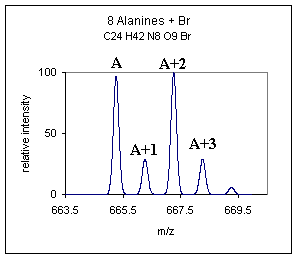 .
A more subtle but relevant difference may be noted in those compounds that contain the A+2 type element sulfur, good examples are cysteine and methionine containing peptides. Shown below is a comparison of the polyalanine peptide ± a cysteine residue. The difference is not as striking as Br or Cl additions but this small difference can often be used to propose that one of these sulfur containing amino acids is present in a peptide. The difference becomes more obvious when a disulfide or multiple sulfur containing amino acids are present.
.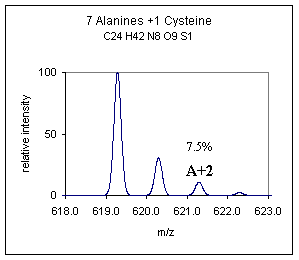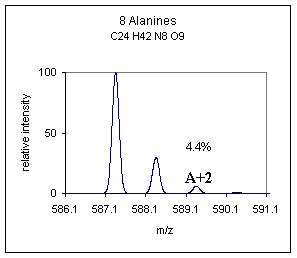 .

Previous
Next

.
(slide jumper) Contents Glossary Comp. 1 2 3 4 5 6 7 8

home | disclaimer
Copyright © 2000-2016 IonSource, LLC All rights reserved.
Last updated: Tuesday, January 19, 2016 02:49:01 PM